Latest News
Viewing entries posted in October 2017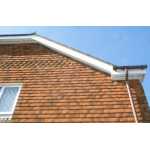 Posted by Trevor Martin, TM Roofing & Building on 19 October 2017
Improve the look of your home with new fascias and bargeboards
When you're thinking about home improvements, it's easy to forget how important fascias and bargeboards are to the appearance of the exterior of your property.
Fascia boards are the long straight boards attached to the bottom ends of roof trusses that span the lower edge of the roof. Their main purpose is to hold guttering and offer a decorative finish. Bargeboards are used on the gable ends of roofs to cover the ends of the roof timbers.
The appearance and condition of these boards play a large part in how attractive your property looks on the outside and upgrading can make a massive difference to the appeal of your home.
Replace rather than repair
It can be expensive to repair existing rooflines, and it may not be worth the cost if they're badly neglected. Essentially, all you're doing is papering over the cracks as any serious issues are likely to resurface.
It's often more cost effective to install new fascias and/or bargeboards to permanently solve the problem and at the same time give your home a stylish makeover.
uPVC versus timber
Timber fascias and bargeboards require a high level of maintenance as they can easily succumb to rot or become warped. The weather and environment affect the way wood behaves, and timber needs to be regularly treated in order to keep it in optimum condition. If your paintwork is peeling, then rainwater will begin to penetrate the wood leading to irreversible damage.
By contrast, uPVC doesn't rot or warp and can withstand all types of weather conditions without any impact on its appearance. You can simply wipe the boards with a wet cloth to remove any surface dirt or marks.
The benefits of uPVC
It's waterproof and weatherproof – the durability of uPVC is its main appeal, but it helps that it also looks great. As well as protecting your roof from the elements, it can completely transform your property and enhance kerb appeal. 
uPVC comes in a broad range of coloured finishes and woodgrain foils – meaning you can choose the exact finish to complement the exterior of your property.
And while the primary aim of fascia boards is to support the bottom edge of your roof tiles and conceal and protect the ends of your roof rafters, they also offer other benefits such as helping to keep birds and rodents from finding their way into your roof cavity.
If you want to enhance the appearance of your home, then upgrading your fascia and bargeboards will give your property an instant facelift and add value, so if you are considering selling your home, then having recently replaced the fascias and bargeboards will be a good selling point. 
TM Roofing & Building specialises in replacement and renewal of fascias, soffits, bargeboards and guttering with expertise in installing the latest uPVC roofline products. 
If you'd like some expert advice on the best option for your property, then give us a call on 01252 851719 as we can provide you with the options available and a quotation for your planned home improvements.  For further information on the roofing and building services offered by TM Roofing, please visit www.tmroofing.com
When you're thinking about home improvements, it's easy to forget how important fascias and bargeboards are to the appearance of the exterior of your property.
Read the full post