Meet the Team
The company started in 1994 as TM Roofing, but the demand for building work was such that Trevor Martin, founder, decided to expand the business to offer the full service of roofing and building works to home owners, developers and trade associates.
TM Roofing and Building has developed an excellent reputation for quality craftsmanship and reliability, and as a result of the company's success, Trevor Martin Developments Ltd was created to provide a foot-hold for the TM brand to branch into domestic property development.  Trevor Martin Developments Ltd has completed its first 2, 3 and 4 bedroom housing development in Medstead, Hampshire as well as a 3 year major re-development of Albury Park Guildford, Surrey, a Grade II listed building in Guildford, Surrey. 
The TM Roofing & Building workforce consist of 50 roofers and builders who are a strong, reliable and trustworthy team, with many years of experience in their chosen specialist area. The main office and yard in Church Crookham is manned by a dedicated and experienced team of professionals, who are the voices at the end of the telephone and the welcoming faces when you visit the yard.  Providing excellent customer service is a main focus for the entire team and testimonials given by customers indicate that TM Roofing and Building are definitely on the right track.
Trevor Martin - Founder and Director
After spending the first 14 years working as a self employed sub-contractor for local roofing and building companies, Trevor embarked on starting his own roofing business in 1994 after growing disillusioned by working for firms who had no time or understanding of customers, or their workers' needs.  The success of this venture enabled him to expand TM Roofing and Building to create Trevor Martin Developments Ltd and TM Rallysport.
Trevor is well known in the local area for his warm personality and sense of humour.  These attributes have won him many friends and have helped him to build good relationships with his workforce and customers.  He gains much personal satisfaction in being able to offer clients practical advice on all alterations and building issues, and to help them turn their ideas into reality, within their own personal budget.  Trevor's common-sense approach, combined with his many years' experience in roofing and building, have resulted in a company to be proud of - where customer satisfaction and top-quality finish are guaranteed.
Chris Newman - Roofing Manager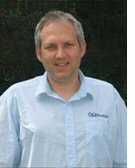 Chris began his career working at Hooper & Ashby's roofing company in 1983, during which time he studied and qualified with the National Federation of Roofing Contractors' examinations in London.  With over 30 years of working for roofing companies, Chris has brought valuable experience to the TM Roofing & Building team.
Chris joined TM Roofing & Building in 2004 as Roofing Manager. A true professional, Chris oversees all roofing work contracts, regularly visiting and assessing site progress and practice.  A willing and conscientious member of the company, he also takes an active role in the initial estimating and contract requirements for our customers.  His commitment to the job is total; this aspect, combined with his sense of humour, is truly valued by his colleagues.
Chris Prince - Working Foreman
Chris enjoys meeting and talking with people, and is an able ambassador for TM Roofing & Building.  His main background comes from 35 years of working on tools, and he joined the company in 2008.  His organisational skills are ideally suited to surveying and running jobs, and overseeing workers.  Chris is an true asset to the TM team, bringing not only his extensive roofing experience to the role, but also excellent management skills, sharp customer focus and total commitment.
Sarah Watkinson - Accounts Administrator
Sarah has worked for TM Roofing & Building since 2005 and her contribution to the company has been fundamental to its growth. With her meticulous work ethic and commitment to the company, she follows the progress of each job closely and is responsible for all aspects of the company's accounts.  With a strong background in book-keeping, combined with her natural organisational skills and knowledge of the roofing and building business, Sarah is a true asset to TM's unbeatable team.