Unusual Roofs
« Back
TM Roofing and Building are specialists in the repair and replacement of more unusual roof structures, which demand a high level of expertise and craftsmenship. Work on unusual roofs include church spires, converted hop kilns and a domed National Trust property.
Prestige Strip & Re-slate, Bentley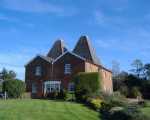 What a fantastic building for TM to work on. This was the second time Trevor Martin had visited the property, the first occasion being back in the early 80's when he assisted in replacing slates. On this occasion, TM was asked, to not only completely strip and re-slate the entire building, but for his professional input into the system used on the slate work. Maintaining the Hop Kiln's original traditional design was of primary concern and the owner also contributed some good ideas as to how this could be achieved.

Firstly, we removed and disposed of the timber fascias and then replaced them with new pre-stained timber, sealing with mastic all abutments to prevent water ingress. We then used a double nail and hook system to prevent slate movement and wind-lift to the hop kiln slate roofs.

For the reasons of wind-lift we also needed to strap and cleat the lead tops down; and we even managed to set up an internal scaffold to clear the wide feature timber work inside the hop kilns. All external elevations were clad with Canadian Natural grey slates, keeping with the buildings stunning appearance. These hard wearing slates can resist the most severe weather conditions.

The existing gutters were replaced with new large cast effect plastic gutters to match how the hop kilns would have looked originally. All existing lead works were replaced leaving this fantastic building looking great and maintenance free for the foreseeable future.
Roof Renovation, National Trust, Basingstoke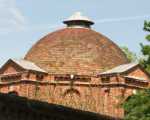 This is definitely Trevor Martin's favourite roofing project and one he completed personally; a truly interesting assignment. Hand-made tiles were used to fit the specific shape and character of the building. No power tools were permitted to be used on this National Trust treasure, so all the tiles were hand-cut into position. A lovely and unusual roof to tile, and one to be proud of!