Extensions
« Back
Want to extend your home?  TM Roofing & Building in Fleet, Hampshire are specialists in all types of roofing and building works and serve customers in Hampshire, Surrey and Berkshire.  Building works include rear extensions, side extensions and front extensions.  Please give us a call if you would like us to provide you with some options and a quotation on your home extension.
Front & Rear Extension, Fleet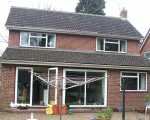 A delightful customer to work with!

Phase 1 – Front dormer flat roof to pitch conversion. This involved us drawing up and submitting plans and Regulations to the Local Authority, plus the ensuing inspections to completion. This was the sixth conversion undertaken by us in this particular road.

Phase 2 – From the initial inspection and discussion of customer's ideas, to submission of plans and building regulations; we constructed a large rear 2-storey extension and total renovation of the first floor consisting of four en suite bathrooms and built-in wardrobes and dressing rooms.

Phase 3 – We renovated the existing porch by removal of the front pier, re-constructing a new pier wall, together with the front door window and plastering and lighting. This updates the character of the house from its slightly dated appearance to a modern entrance incorporating useful family space.
Rear Extension, Sandhurst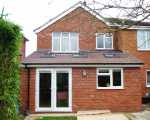 This was a simple rear extension which required us to construct the shell only. Work involved digging footings, building the walls and installing Velux windows, a lead inverted roof, breaking through into the existing part of the house, and necessary drainage work.
Garage Extension, Fleet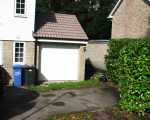 A new garage extension was undertaken, and shortly following this, we renewed the driveway which was a complex issue as there were ongoing drainage problems to be overcome. We undertook this project and commenced work in extremely bad weather; we ran into Christmas but completed on time and to our usual high standard. The customer was very happy with our professionalism and workmanship.