Listed Buildings
« Back
As experienced and reputable builders, TM Roofing & Building in Fleet Hampshire have carried out complete renovations on Grade II listed buildings which includes re-tiling, vertical tiling, renovation of chimneys, insulation, reconstruction of parapet walls, replacement of rotten rafters, new timber installation, and renovating barn roofs. We would love to given the opportunity to quote on any refurbishment project, so please give us a call if you have any requirements in this area.
Grade II Listed Renovation, Bentley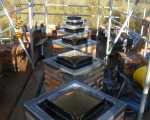 This is a beautiful old Grade II listed house dating from the 14th century, which had unfortunately been slipping into disrepair. The previous year we had been called in to make temporary repairs due to water damage through the old roof.

TM Roofing & Building carried out a complete renovation to the roof and building, externally and internally. The roof was stripped and re-tiled using second-hand peg tiles. New Keymer tiles were used for the vertical tiling work, and all chimney stacks were rebuilt or re-pointed.

We installed new insulation to the loft and vertical clad areas. New lead roofs were also completed, together with lead gutters, flashings and aprons. Existing cast iron gutters were also replaced with new. We managed, however, to renovate the existing lead downpipes and hoppers by making new brackets and welding up the existing pipes.

New roof windows were installed in accordance with Listed Building approval which matched the dormers. We completed the external painting work in traditional colours. We then re-constructed and re-pointed the parapet walls. New timber work included replacing rotten rafters and renovating the barn roofs. All flat roofs were then replaced, with new boarding and cladding work as required.

Other works included a drain, surveying and renewing water storage tanks, stripping out existing plumbing and replacing with new, and installing a new sprinkler system.

We then turned our attention to the windows which were re-built, renovated and repainted, and the 14th century glass panes restored to their original period look.

Cellar works included removing the walls and installing steels and the replacement of rotten timbers.

General alterations and renovations were undertaken, such as insulation works, sound-proofing, stone work and plastering.

We next carried out the painting of the property, both internally and externally, bee waxing, staining oak timber renovations, with further installation works of second-hand timber to match the original.

Finally, the bathrooms were supplied and fitted with new and traditional sanitary ware, including shower cubicles, glazed floor and wall tiling, and mosaic work.

NB: This has proved to be one of the most enjoyable projects we have undertaken. The opportunity to work with the owners on this stunning 14th century property has been a privilege.


Strip, Re-Slate & Re-tile Roof, Alton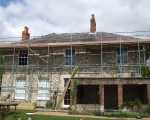 On this occasion we carried out a complete strip and re-slate using new very thick natural slates in keeping with the character of the original house.

The owner of this Listed Building is a valued customer and has recommended us for many other projects locally.