Unusual Building
« Back
TM Building in Fleet Hampshire are specialists in all types of building works and have an impressive portfolio of work, including more unusual projects such as The Dr Who Tardis and the building of a Wine Room in a customer's garden.  TM Building also specialise in the building of extensions, listed building renovation, and building conversions.  Please give us a call if you would like a quotation on an more unusual building project.
'The Tardis', Four Marks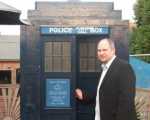 'It's amazing what we get asked to build ….. and some jobs are bigger on the inside than on the outside ….. my kids love it!!!'

Built by the workforce for Trevor Martins' sons, who love Doctor Who. A pleasurable experience where everyone's input was fantastic. The enthusiasm from the team was touching; from the carpenters and bricklayers, to electricians, all wanted to be involved. We managed to get the blue light just in time, and while the boys were at school we wrapped the whole thing in bubble wrap and lifted it into our garden with a telescopic forklift. The boys were amazed and thrilled to be able to go on a real time travel mission…. but it's even better storage for the scooters now!
Wine Room Extension, Holybourne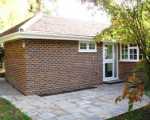 We constructed this small compact extension incorporating an air-conditioning unit to keep the wine at the appropriate temperature, using second-hand tiles and hand-made bricks to match the existing house. Landscaping consisted of sandstone slabs.